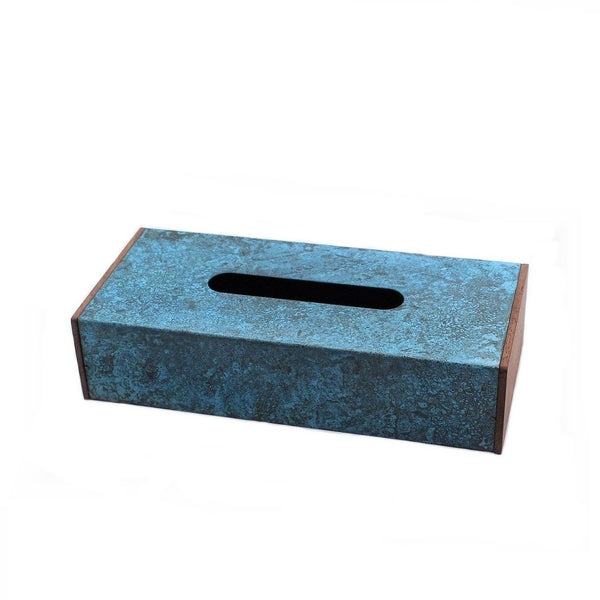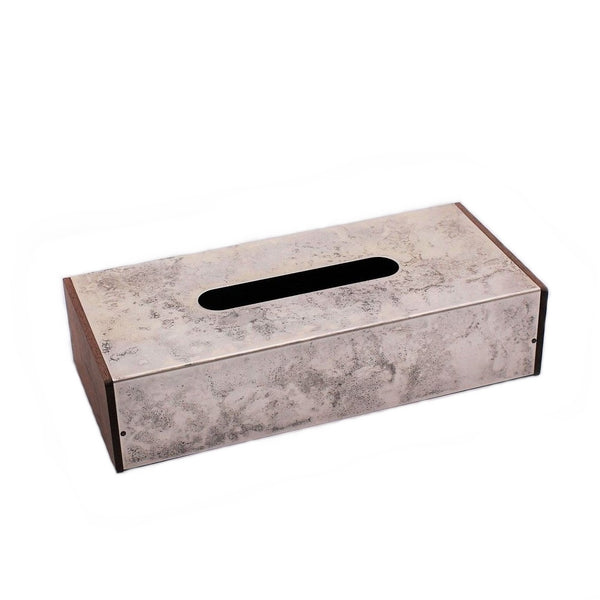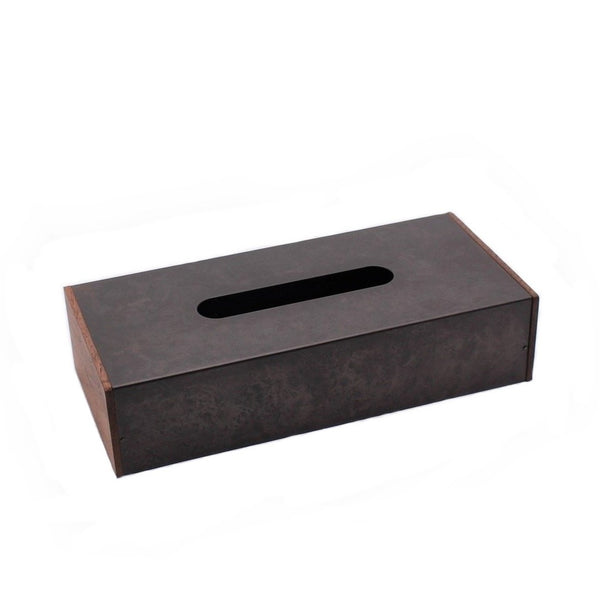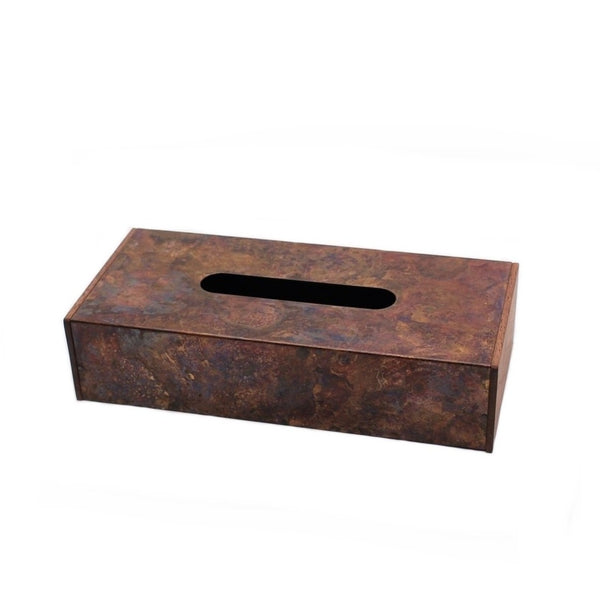 Copper Tissue Box Cover, by Orii
Made by hand using simple, traditional techniques that play with the copper's reactive properties, high heat, and everyday substances. Everything is made by hand to ensure the highest quality possible.
This object takes more than one month to make, with many steps creating unique color patterns.
The hollow bottom allows for the quick covering of commercial tissue boxes, thus improving the aesthetics of your interior space.
Use at home or in the office. Avoid using in the bathroom as high moisture may change its colors. The color will change over time naturally. To maintain it avoid moving it from place to place with bare hands, but use a tissue of gloves instead. Ideally, keep it in a living area or in an office space. Avoid using in the kitchen as oil spills may drastically change its color pattern.
Story
For over 400 years, in Toyama prefecture, artists have masters metal casting and coloring using only simple tools and simple methods. Aiming to create modern items, inspiring colors, and beautiful patterns, Orii developed a range of products that have captivated interior designers in Japan. These objects offer a glimpse into Japan's modern design approach, still linked to personal effort and handwork, but detached from Tokyo, claiming an independent voice in design.
Details
Material: Solid copper and walnut wood
Size: 23 cm x 18 cm
Weight: 230 g
In the Box
Warning
Do not put in a dishwasher!
Safe Payments
To ensure you have the best and safest experience while shoping at Suwada we hired skilled, seasoned experts to ensure your details are kept safe, secured and encrypted using the latest information security technologies.
1. Safe with us
Our website is 100% verified and all transaction and customer info is securely encrypted with the latest technologies.
2. A lot of checkout options
You can checkout using Visa, Mastercard, AMEX, Google Pay and Apple Pay.
3. Have a question?
We are here to help you out with anything you may need. Give us a call at +44(0)20 7874 1579 to ask anything about us or our products!
If you are not sure whether your browser offers security, double click on the checkout link and look for ''https://''. If the s is visible you are in a secured page and safe to checkout. The webpage is not going to work at all without that bit by design.
Free Shipping *
Free shipping in the UK over

£50

.
Free shipping in all areas over

£199

.
We deliver by Royal Mail, Parcel Force service or courier service. We aim to dispatch the ordered products as soon as possible. If for any reason you haven't received your parcel within 10 days please contact us.
Below are the areas that we serve from our offices in London. Some areas may be served directly from our factory in Japan.
 
Zones


Areas

 
UK

 


All areas in the United Kingdom

 .

North
America

USA, CANADA





 
If you would like to order from any country not mentioned above or if you would like a product to be delivered to another country (not mentioned above), please contact us directly at kyuki@suwadalondon.co.uk 
We always happy to assist.
Age Verification (UK only)
Concerning kitchen knives delivered to UK addresses ONLY.
This is a verification to ensure kitchen knives are delivered to customers over 21 years old in the UK.
By adding kitchen knives to your bag you verify automatically that you are legally eligible to receive them upon delivery. You must be at least 21 years old.
We apologise for any inconvenience caused. We do our best to offer a seamless service and are ready to answer all your questions. Feel free to contact us if you have any queries regarding the purchase of a Japanese kitchen knife.
Read more about the UK law on carrying and selling knives.
Contact us at support@suwadalondon.co.uk.